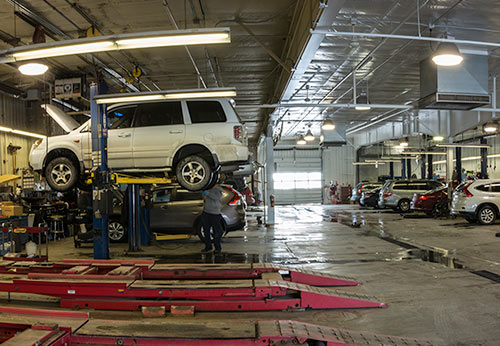 Used Car Dealership in Sioux Falls | Why Reconditioning is Crucial | Quality Pre-Owned Vehicles for Sale
Deciding between a new or pre-owned car poses some tough questions for most drivers. Both options have plenty of positives and very few negatives. For the purpose of this article we're going to discuss pre-owned, or often called used, vehicles. Used vehicles for sale can be a really good selection as long as you're receiving a quality vehicle that's been properly inspected and maintenanced. Too often, the main factor driving a decision to purchase a used vehicle is price. While price is very important and should be considered, it can be deceiving as well. At Vern Eide Motorcars, we treat every vehicle with the utmost importance so you're driving away with the best vehicles in the market that you can always count on to keep you safe.
So what separates a used car for sale from Vern Eide? It all starts with the inspection. Our team will drive every vehicle we trade for or buy. Our trained professionals will check more than oil leaks and windshield wipers. Starting with a mechanical checklist, our team reviews the entire vehicle bumper to bumper. We highlighted the most important areas our team inspects. This is not the full list and should be reviewed by every dealership along with questions that should be asked:
Brakes. Do they make any strange noises? Grinding is a bad sign.
Brakes. Does the vehicle pull to the left or right?
Brakes. Does the parking brake work properly?
Steering. Does the vehicle shake or vibrate?
Steering. Is there any resistance from the steering wheel when turning?
Engine. Does the engine emit any odors?
Engine. Do the exhaust emit any smoke - blue or black are bad signs especially.
Engine. Does the engine leak any oil or fluids?
Engine. Are there any strange noises, ticks, hisses, etc?
Tires. Do the tires have any cuts or cracks?
Tires. What is the tread? Is it evenly worn?
Tires. Is there a spare and is it inflated?
After the mechanical checklist has been completed we move on to the cosmetic checklist. How you vehicle drives is super important of course, and so is ensuring the vehicle looks good! For example, listed below is just a few areas we inspect:
Dents or scratches on the exterior.
All doors, trunk and hood open and close properly.
Headlights, tail lights, directional lights all work.
Rust in door edges, hinges, trunk or elsewhere.
Trim pieces are in place.
Technology like radio, speakers, CD player all work properly.
Rips, tears, etc on seats.
Overall interior blemishes.
Windshield cracks
Air conditioning works.
Heater works.
Seats all adjust.
We didn't cover every area we inspect but wanted to give you an idea how important this process is. Every used car dealership in Sioux Falls should have a thorough process, unfortunately it's not the reality. This is one of the major reasons why it's ultra important to identify a dealership that goes beyond just price.
Once we have identified all the reconditioning required, we get to work. Depending on what needs to be replaced will determine the turnaround time for that vehicle to be ready for you! Some vehicles can take up to a week if not longer to ensure it's in the right condition for us to sell. We don't cut corners at Vern Eide. It's one of the many reasons we've been able to stay in business since 1965! If you're looking for a used car dealership in Sioux Falls that actually inspects and reconditions every vehicle, look no further to your friends at Vern Eide Motorcars.